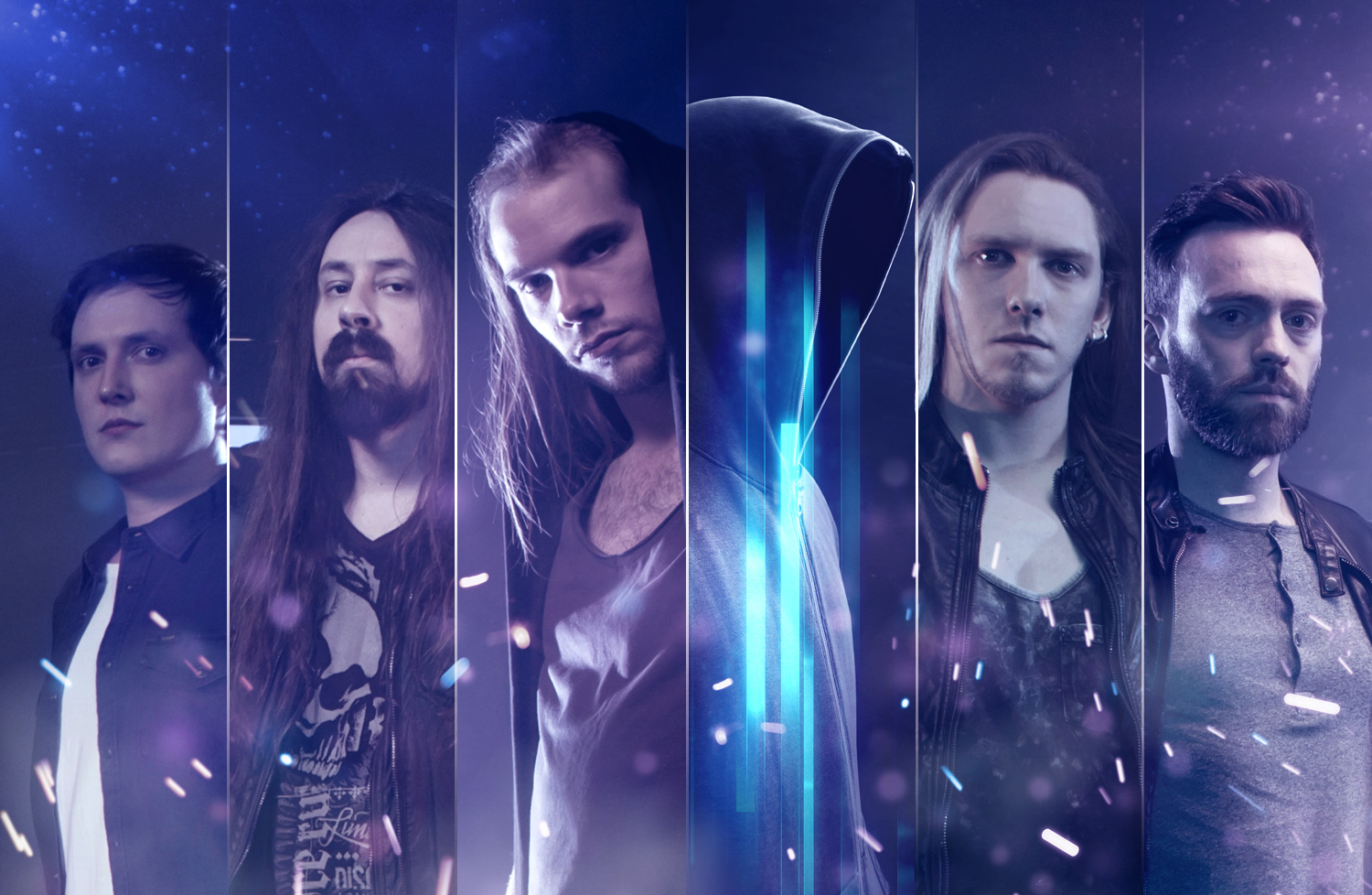 François (bass) | Francesco (lead guitar) | Julien (keyboards) | ??? (vocals) | Nicolas (drums) | Thomas (guitar)
---
Ethernity
is a Progressive Power Metal band from Belgium founded in 2000 by brothers Julien Spreutels (keyboards) and Nicolas Spreutels (drums) and their cousin François Spreutels (bass). They were quickly joined by two friends: Steve Widart and Thomas Henry on guitars. The band played his firsts instrumental gigs in 2002 and 2003.
After 4 years of research,
Ethernity
found the voice that fits the band through Julie Colin. The finally complete lineup recorded his first demo entitled "
All Over The Nations
" during the summer of 2005. The band started to play a few gigs in his area.
In 2006,
Ethernity
played at the second edition of NamRock Festival headlined by
Dagoba
(FR) at
Namur Expo Hall
.
Ethernity
recorded a demo-album "
The Journey
". The self-produced effort was available in December 2006. In early 2007,
Ethernity
decided to part ways with Steve and welcomed Gregory Discenza as new lead guitarist. With this new team, the band took a major step forward both artistically and technically and began to write new songs.
Ethernity
played a few concerts during 2007 with, among others,
Wine Spirit
(IT),
Seraphim
(TW) at
Ten Weyngaert
,
Black Bomb A
(FR) at third edition of NamRock Festival.
In 2008,
Ethernity
recorded an EP/demo titled "
Quest Of Forgiveness
" in his home studio. It helped to give the public an idea about the evolution of the band before recording a second album. One of the highlights of that year was their participation in the
Metal Female Voices Festival
among artists like
Tarja Turunen
(FI) - Ex-
Nightwish
,
Epica
(NL),
Girlschool
(UK),
Benedictum
(U.S.)
Eths
(FR),...
In 2009,
Ethernity
started on the writing of his next album. The band was qualified for the
Concours Circuit
contest and passed the different stages to finish in the final at the
Botanique
in Brussels. During that year,
Ethernity
also played a few additional dates in Belgium and played among others on the stage of the famous
Spirit of 66
with
Sons Of Seasons
(DE) featuring members of
Kamelot
(U.S.),
Doro
(DE),
Metallium
(DE),...
In 2010,
Ethernity
released a demo single entitled "
Broken Memories
" which consisted into 2 pre produced songs of their, still untitled, next album. Still working on the new studio release, they played a few local gigs and festivals.
Ethernity
played an acclaimed show as support act for heavy metal legends
Tarot
(FI) - featuring Marco Hietala from
Nightwish
- at the
Coliseum
in Charleroi and a show with
Autumn
(NL).
In 2011,
Ethernity
will hit the stage of the
Power Prog & Metal Festival
among bands like
Europe, HammerFall, Edguy, GammaRay, Rage, VandenPlas
and many more. The writing process of the new album is finally coming to an end and the band is currently in pre production mode before hitting the studio later this year.
Between 2012 and 2013, the band started recording their next album in their own home studios. During that period,
Ethernity
also played a couple of gigs and festivals with bands like
Evil Masquerade, Rhapsody of Fire, Jorn, Symphony X, Masterplan, DGM, Freak Kitchen, Evergrey
,...
In October 2013,
Ethernity
finished the recordings of their debut album «
Obscure Illusions
» which was mixed and mastered by
Simone Mularoni (DGM, Empyrios)
at
Domination Studio (IT)
. The title track features 3 special guests singers:
Tom E. Englund (Evergrey), Kelly Sundown Carpenter (Firewind, Outworld, Beyond Twilight) and Mark Basile (DGM)
.
«
Obscure Illusions
» has been released on March 20, 2015 and received great feedbacks from the international press and
Ethernity
was mentionned several times as the new jem of the belgian metal scene.
For the next 2 years,
Ethernity
promoted on stage «
Obscure Illusions
» between Belgium, the Netherlands and Switerland and shared the bill with bands like DGM, Tank and Noveria.
In 2017, Ethernity took the mutual agreement to go separate ways with Greg Discenza. The band was glad to welcome Francesco Mattei (Noveria, IT) as the new lead guitar player.
Ethernity recorded their second album and released a digital single: 'The Code' in December.
Beginning 2018, Ethernity signed a worldwide deal with
AFM Records
. The new album "The Human Race Extinction" is released on 1'th September.
In August 2018, Julie Colin has left Ethernity for personal reasons.
"Nowadays, Ethernity's music can be described as metal with a combination of dark and aggressive moments, gentleness, progressive and classical elements, catchy choruses, where melody excels above everything else. This mix has often allowed them to touch both the metal fans of all styles, and often a lay audience."